AND Weighing GX-Series Lab Scales
currently in stock
Shipping Weight: 13 lbs. (estimate shipping cost)
Other AND scales
Other Laboratory scales
The GX Series is so complete that AND Weighing calls it "The World's Most User Friendly Balance". GX-series laboratory scales are produced as single-size, low-profile, esthetically pleasing instruments. The GX series analytical balances are available in a choice of eight different capacities ranging from 210g to 8100g. Various resolutions and optional glass breeze breaks are also available.
Fast, new Super Hybrid Sensor (SHS) gives you the ultimate in response speed--Just ONE Second!

Internal Calibration Weight for quick, convenient calibration
Auto Environmental Compensation ensures the optimal performance of the balance at all times
IP64 Splashproof operator keyboard protects against dust and spills
Stainless Steel weighing pan
Standard RS-232 bi-directional communications
Multiple weighing modes, including animal weighing, comparator function, ACAI counting function, percentage weighing function and density determination.
GLP/GMP/ISO compliant to either AD-8121 printer or computer. Transmits date, time, ID number, serial number and calibration data
Auto re-zero function after each weighing
Windows compatible data collection software
Interval time setting for automatic weighings at intervals from 1 second to 10 minutes
Data Memory Function can accept any of the following data matrices:

200 sets of weighing data
100 sets of weighing data with date and time
50 sets of GLP data -- time, data, calibration data, ID number and serial number
20 sets of unit average piece weight for use in the piece counting mode

Resolution Range among models: 1/60,000 to 1/600,000

Time and date built in

Large, bright Vacuum Fluorescent Display - see the display even in the dark

Percentage, Counting Functions & Comparator functions

ACAI Counting Function for highly accurate counting

Bright, blue Vacuum Fluorescent Display

Underhook weighing
USB compatible
Specifications
Stabilization Time: 1 second
Dimensions: 8.26 W x 12.48 D x 3.38 H in (210 W x 317 D x 86 H mm)
Breeze Break: 6.37 W x 8.14 D x 2.50 H
Operating Temp: 5°C ~ 40 °C (14°F ~ 104°F)
Power: 110, 120, 210, 220 VAC, 50/60 Hz
Specs:
Model
GX-200
GX-400
GX-800
GX-1000
GX-2000
GX-6100
GX-6000
GX-8000
Price




-












Capacity x Readability
210 x 0.001g
410 x 0.001g
810 x 0.001g
1010 x 0.001g
2100 x 0.01g
6100 x 0.01g
6100 x 0.1g
8100 x 0.1g
Minimum weighing value
0.001g
0.01g
0.1g
Repeatability (Standard Deviation)
0.001g
0.01g
0.1g
Other units of measure
Decimal ounce, Troy ounce, Pennyweight, Carat, Momme, Grain unit, Pound, Pound/Ounce
Linearity
±0.002g
±0.003g
±0.02g
±0.03g
±0.1g
Stabilization time Approx.(typical at FAST)
1 second
1.5 second
1 second
1.5 second
1 second
Sensitivity drift (10°C to 30°C/50°F-80°F)
±2ppm/oC (When automatic self calibration is not used)
±5ppm/°C (auto-self califbration OFF)
Operating temperature
5°C to 40°C (41°F to 104°F), 85%RH or less (No condensation)
Sensing method
Super Hybrid Sensor (SHS) *SHS:
Display type
Vacuum Fluorescent Display (VFD)
Display refresh rate
Display refresh rate
Counting mode
Minimum unit mass
0.001g
0.01g
0.1g
Counting mode
Number of samples
10, 25, 50 or 100 pieces
Percent mode
Minimum 100% reference mass
0.100g
1.00g
10.0g
Percent mode
Minimum 100% display
0.01%, 0.1%, 1% (Depends on reference mass stored)
Standard serial I/F
RS-232C Interface with Windows Communication Tools (WinCT: included as CD-ROM)
Weighing pan
128 x 128mm (5.04 x 5.04inch)
165 x 165mm (6.50 x 6.50inch)
Calibration
Motor-driven Internal Calibration
External dimensions
210(W) x 317(D) x 86(H)mm (8.27 x 12.48 x 3.39inch)
AC adapter
Confirm that the adapter type is correct for the local voltage and power receptacle
Power consumption
Approx. 11VA (supplied by AC adapter)
Net weight
Approx. 4.6kg
Approx. 5.1kg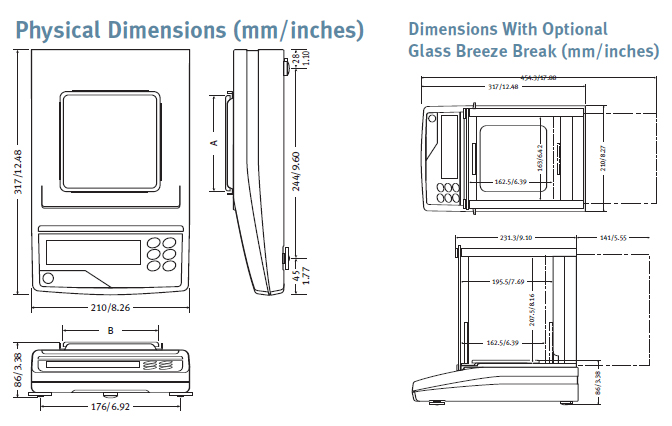 | Model | A | B |
| --- | --- | --- |
| GX-200/400/600/800/1000 | 128/5.03 | 128/5.03 |
| GX-2000/4000/6100/6000/8000 | 165/6.49 | 165/6.49 |