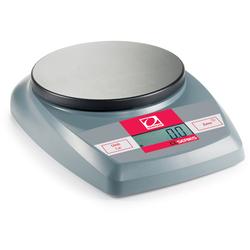 Specifications Chart
With basic weighing and a simple two-button keypad, there?s no reason to settle for other brands when you can have an OHAUS scale!

The OHAUS CL Compact Scale is a lightweight, portable scale perfectly suited for use in industrial, jewelry and home use applications. Applications can include quality control, formulation, soil sampling, jewelry, postal weighing and dietary weighing.
Standard Features Include:
Superior RF Protection ?The CL is designed with superior RF protection to deliver accurate and stable results when used in production areas or near cell phones. Approvals for electrical and emissions include CE listed and FCC Class B Part 15 operation.
Large Weighing Platform ?The CL is designed with a large weighing platform and can adequately handle large samples including oversized letters.
Stackable Design with Integrated Shipping Lock -The CL has a low profile and storage is made easy with a stackable design. The integrated load cell lock protects the weighing cell from damage during storage or transportation.
Standard Features Easy operation with 2 clearly marked buttons, low battery indicator and auto shut-off feature to conserve battery life, mechanical and software overload protection to protect weighing cell from damage, external push button calibration (calibration masses not included). Powered by 3 ?AA? batteries (included) or by optional AC adapter
Industry Leading Quality and Support All OHAUS CL Series scales are manufactured under an ISO 9001:2008 Registered Quality Management System. Our rugged construction and stringent quality control have been hallmarks of all OHAUS products for over a century.
Model
CL-201
CL-2000
CL-5000
CL-5000F
Price



$65.40






$65.40






$90.60






$129.60



Capacity x Readability
200 x 0.1 g
2000 x 1 g
5000 x 1 g
5000 x 1 g
Repeatability (Std. Dev.) (g)
0.1
1
1
1
Carrying Case
-
-
-
Including
Linearity (g)
± 0.1
± 1
± 1
± 1
Weighing Units
g, lb:oz, ozt, dwt
Tare Range
To capacity by subtraction
Stabilization Time
3 seconds
Optimum Operating Temperature
65° - 77°F / 18° - 25°C
Power
3 AA batteries (included)
AC adapter (optional accessory)
Battery Life
300 hours
Calibration
Digital calibration from keypad
Display (in/cm)
LCD (0.5/1.2 high digits)
Pan Size (in/cm)
4.75 / 12.0
Scale Dimensions WxHxD (in/cm)
5.5 x 1.6 x 7.9 / 14 x 4.0 x 20
Box Dimensions LxW H (in/cm)
9.25 x 6.75 x 2 / 23.5 x 17 x 5.5
Net Weight (lb/kg)
0.875 / 0.4
Shipping Weight (lb/kg)
1.3 / .53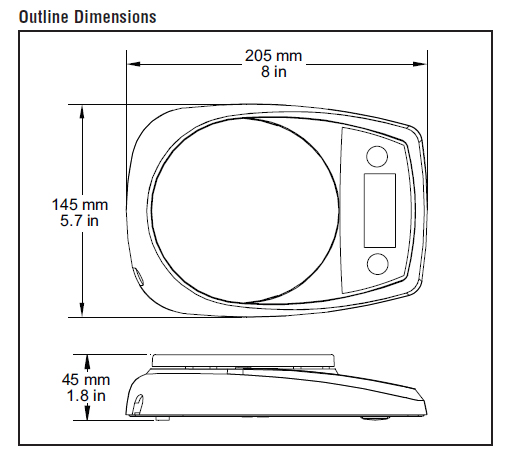 Ohaus CL-5000F Digital Gram Scale with Hardshell Carrying Case